Pinterest has become this fantastic phenomena over the past few years. You can put a ton of other peoples awesome cooking, crafting, fashion, fitness, photography (etc.) ideas on personal boards, all nice and organized in one place to return to whenever you need inspiration. I am obsessed. I especially love how you can have secret boards now that no one can see. That way you can plan your future wedding when you're not even engaged (or dating anyone) and not feel silly. Brilliant I tell you.
My next
for Dummies
book is about how to market your own products or whatever you've got going on, ON Pinterest. You know, so that every girl in the world who is constantly pinning (which all of us are) can easily run into it. Kelby Carr created
Pinterest Marketing for Dummies,
so that you can build your brand and market your products. I mostly just pin, but I do occasionally buy the products I come across (like the Smash Book I just ordered off Amazon today, saw it on Pinterest). Carr begins the book with instructions on how to use Pinterest, which a lot of us think we already know, but there is always something new to learn. The pinning and repinning process is a little different when you want to market your own product. You want your pin to lead readers right to your website with no issues. Carr also shows how to include price tags (SO necessary) on your pins.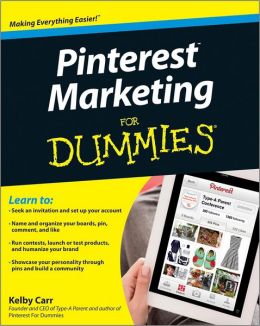 Getting fans, customers and clients to follow you is, in my opinion, the most important aspect of this book. How can you attract followers and spread the word about your product? All covered in Chapter 7.